Migrate Zimbra Account to New Server | Introductory Guide
If you landed on this post, you are definitely looking for a way to migrate Zimbra account to new server. There is a hype search about moving Zimbra mailboxes to another server without losing the data structure. Thus, to eliminate all the hurdles, I have discovered an excellent solution that allows users to transfer Zimbra data files with their data attributes.
Before heading towards the solution section, let's take a quick look at some real-time scenarios of why users are looking for a way to move Zimbra to a new server.
Quick Fix – If you're in a rush and want a reliable solution, you can install the DataSkorpio Email Migration Software with the mentioned link that allows users to transfer their database to another server.
Why Do Users Need to Migrate Zimbra to New Server? | Common Queries
Query 1: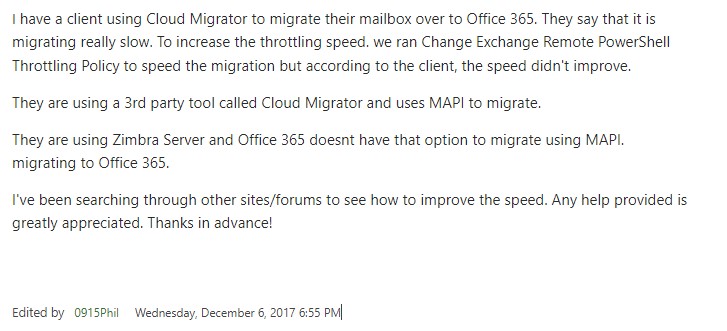 The source of user Query is Microsoft forums (social.technet.microsoft.com).
Query 2:

This user's question has appeared on the Zimbra forum.
Here are some real-time scenarios where users are looking for a solution to migrate Zimbra to new server with data attributes. If you face the same error, then the next section of the blog will be fruitful for you to overcome all hurdles.
How to Migrate Zimbra Account to New server? In Two Minutes
If you want a hassle-free transfer of your files to a new server, do it by utilizing Zimbra Account Migration Wizard  automated toolkit.
The tool can migrate all kinds of data stored in Zimbra profiles like Emails, Calendars, Tasks, Notes, Journals, etc., to another server in one go.
Additionally, the tool provides a filter option to transfer selected data files in the required format. To check out how to run the migration process, follow the steps in the next segment of the blog.
How Does Zimbra Move Mailbox to Another Server Works In Just Few Mouse Clicks?
After successfully installing the tool, go through these simple steps to migrate the Zimbra account to a new server.
1) Run the Automated Solution on your Windows operating system, and the first screen of software will appear like this.
2) Now, go to the Open tab and select Email Servers, and choose File/Folder.
3) The software will Scan the Data File and Display it all on the Software Panel.
4) Once you evaluate the entire data file. Click Export and select the Migration Option according to user requirements.
5) The last step is to click on the Save Button to start the Migration Process.
The process effortlessly migrate Zimbra account to New server. To know more about software, the user can refer to the next section of the article.
Why Automated Solution to Migrate Zimbra to New Server?
Transform Zimbra File to Multiple Formats — This intelligent solution allows to move of Zimbra data files in multiple document formats, Email Services, Web and Cloud Applications, and various technical formats.
Two Option to Add Data Files — Utility allows inserting the data files in two ways, i.e., Add Files or Add Folders. Users can add separate files to the utility or can add the complete folder to the software panel.
Compatibility — Zimbra to new server migration software is compatible with all latest versions of Windows OS. In addition, the software is compatible with all Zimbra desktop versions.
Demo Edition — The user can download the demo version of this tool, and it works similar to the licensed version, but it allows to migrate only the first ten items of each folder.
Migrate Zimbra Associated Email Address — Another advanced feature offered by this automated approach is that it has a separate option to export associated email addresses and contacts without any error.
So There You Have It:
In this blog, we have explained a reliable approach to migrating Zimbra account to a new server. Make use of the software, as mentioned earlier, to execute the migration process without any trouble. The software is entirely bug-free and maintains the folder structure throughout the data transferring process for good.
Frequently Asked Question
Q Can you please explain the process to migrate Zimbra to new server?
Sure, follow the mentioned steps for good:
1. Open a Zimbra account and navigate to the Preferences tab.
2. From the left-side panel, select the Import/ Export option.
3. Now, select the data files you want to migrate and click on the Export Button.
Q Is it possible to Migrate the Complete Mailbox to the Data Server?
Yes, the Zimbra migration to new server allows transferring complete mailbox data without any size limitation. Furthermore, there is no file size limitation. One can migrate any size of the data file.
Q Is there any Refund Policy?
Yes, there is a money-back policy. Also, you can get a full refund if you have any genuine concerns about the tool and must adhere to the terms and conditions.