Best 2 Methods to Import Google Takeout Emails to Gmail Account With Complete Security
Are you searching for a way to import Google takeout emails to Gmail? Then don't worry because in this guide we will explain the entire process to export Google Takeout emails to Gmail account with complete Mailbox data.
Why Users Import Google Takeout Data to Gmail Account?
There are plenty of reasons to take this decision to import Google Takeout emails to a Gmail account. One user query we pasted below. So that you can know why do users want to do this process.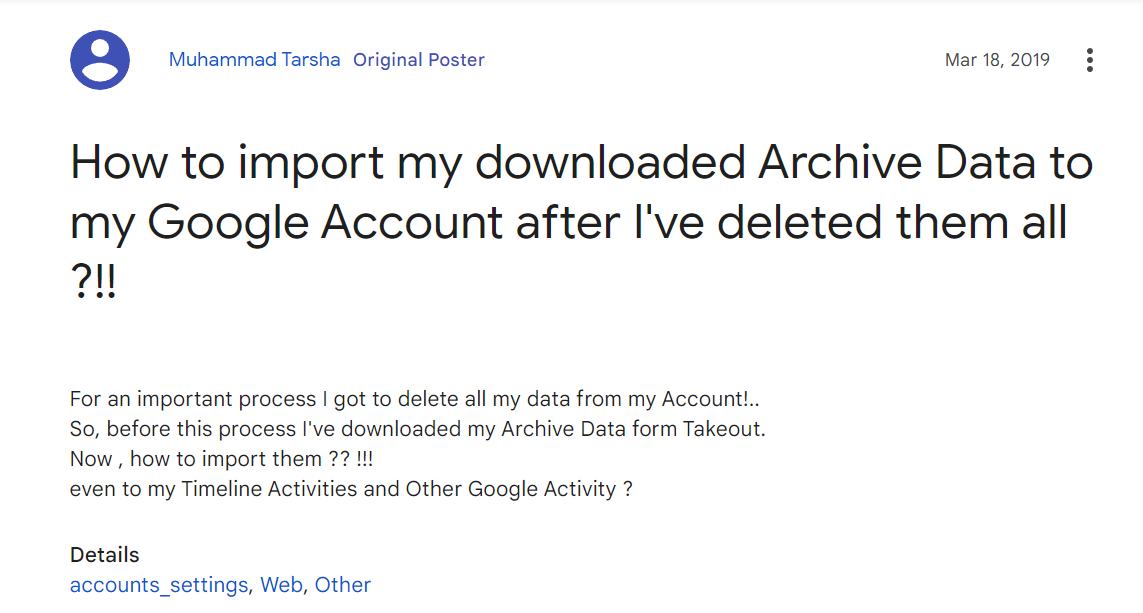 This user problem can be solved by using the DataSkorpio Email Converter Tool. So, let's understand how can you import your Google Takeout emails to your Gmail account.
2 Methods to Export Google Takeout Emails to Gmail Account
There are two ways to import Google Takeout emails to a Gmail account. The first method is manual that comes with a bulk of limitations. And the second is an expert solution that provides you with multiple advanced features along with the import process. The very first step is to archive Google Takeout emails into your computer system. Then start the export process by giving the below steps.
Method 1: Import Google Takeout Mailbox to Gmail by Using Thunderbird
As we know after archiving Gmail emails through Google Takeout it exports your Gmail emails in MBOX format. And MBOX files can not be imported into a Gmail account but there is a manual way to convert your Google Takeout emails to Gmail.
Configure your Gmail account into Thunderbird and then use the free Import/ExportToolNG add-on in the Thunderbird to import Google Takeout files into your Gmail account.
Start the Process Step by Step:
1. The first step is to configure your Gmail account into the Mozilla Thunderbird application.
2. After that install Import/ExportToolNG in your Thunderbird application and restart your Thunderbird.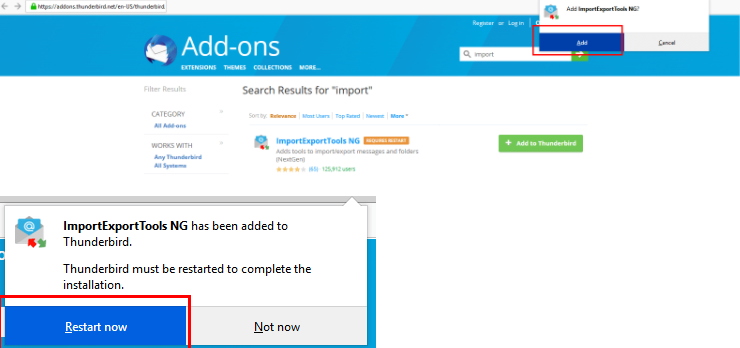 3. Then select the Tool option and select the ImportExportTools option from the drop-down list. And click on the Import mbox file option.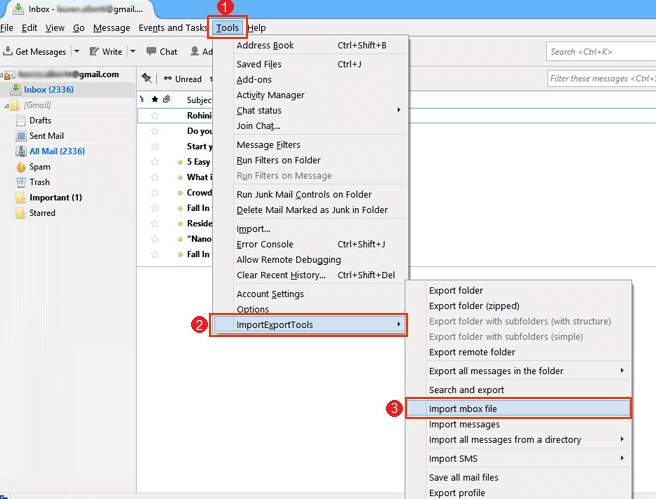 4. After that browse the Google Takeout Mailbox files from your system and restart your Thunderbird account.
5. Finally, you can check your Gmail account that all the Google Takeout Emails will be exported into your Gmail account.
The Limitations of This Manual Process
If you are using this manual method to import Google Takeout Mailbox files to Thunderbird Windows, you may encounter the following problems:
Email attachments of Google Takeout Mailbox files may be missing.
Google Takeout Mailbox data contains broken inline images.
Data from Google Takeout mailboxes can be misplaced.
Information in the header is incorrect.
To import Google Takeout Emails to Gmail you need to install Thunderbird into your Computer system.
There are high chances of virus attacks and accidental shutdowns in the process which may cause loos of your Google Takeout data.
Method 2: Export Bulk Emails from Google Takeout to Gmail Directly
To import Google Takeout data to Gmail use the DataSkorpio Email File Converter Tool. This tool can import all your Google Takeout Data to your Gmail account with complete attachments. Start the process step by step.
Steps to Import Google Takeout Data to Gmail Using Expert Tool
Firstly, download the tool to your Windows OS. Then follow the steps as mentioned below.
1. Start the Import Google Takeout Emails to Gmail by clicking the Open button.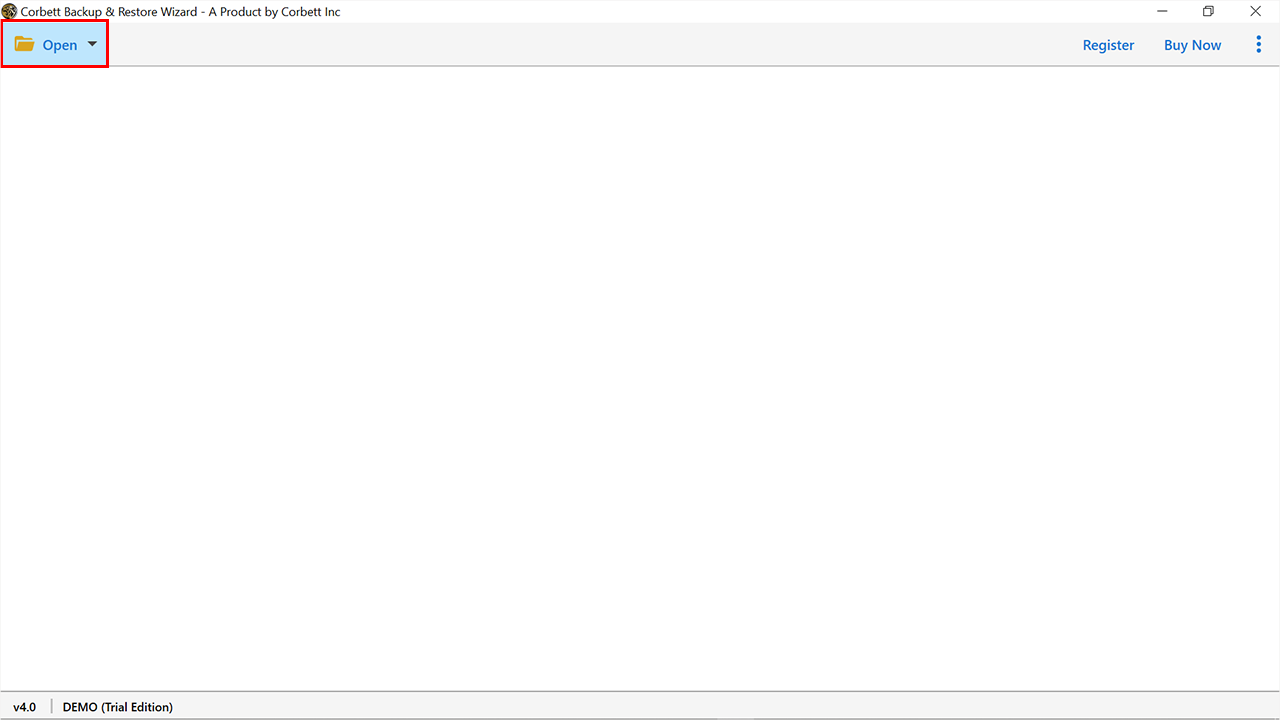 2. Then select Email Data Files and click Google Takeout Files from the given list.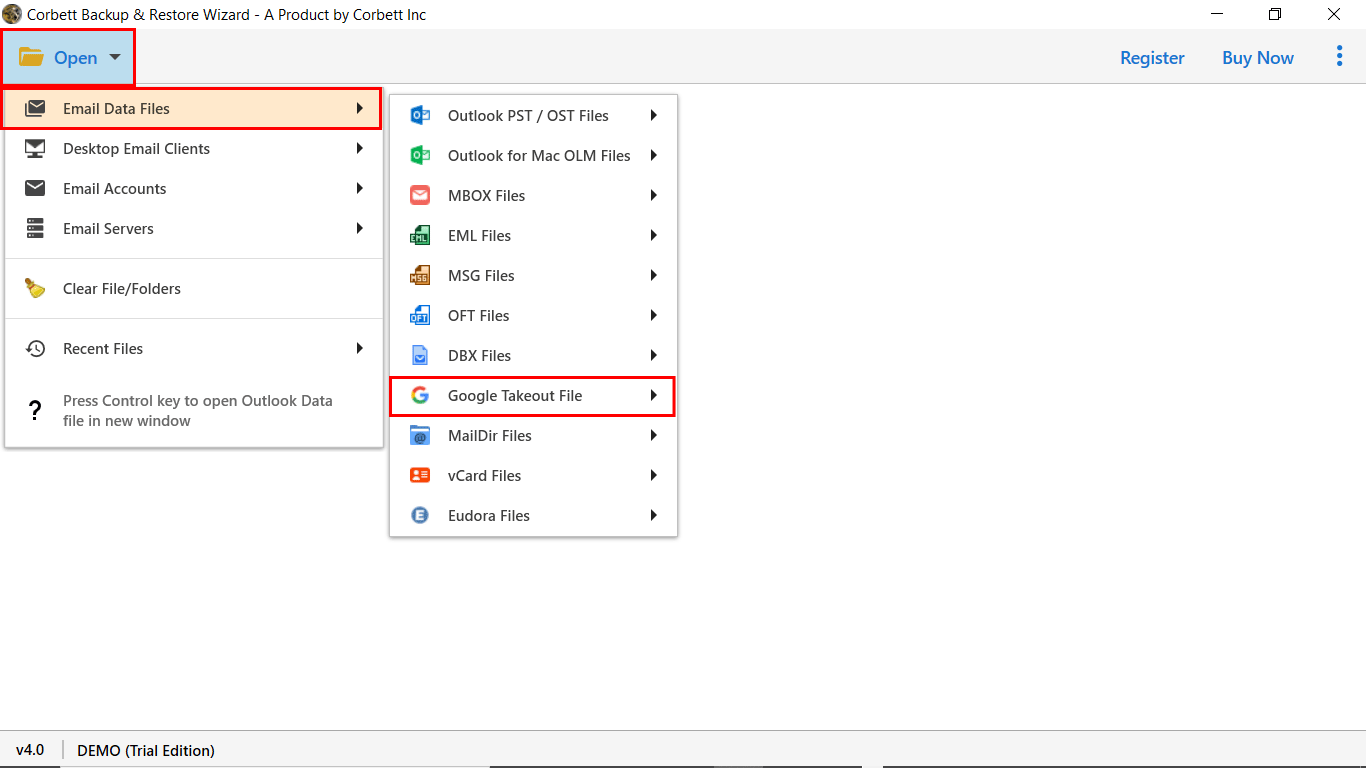 3. After that, the tool provides you with two options to import data such as choosing files from a folder and choosing folders
4. Next, the tool uploads all the Google Takeout data into the tool panel. So that you can preview the emails by selecting them one by one.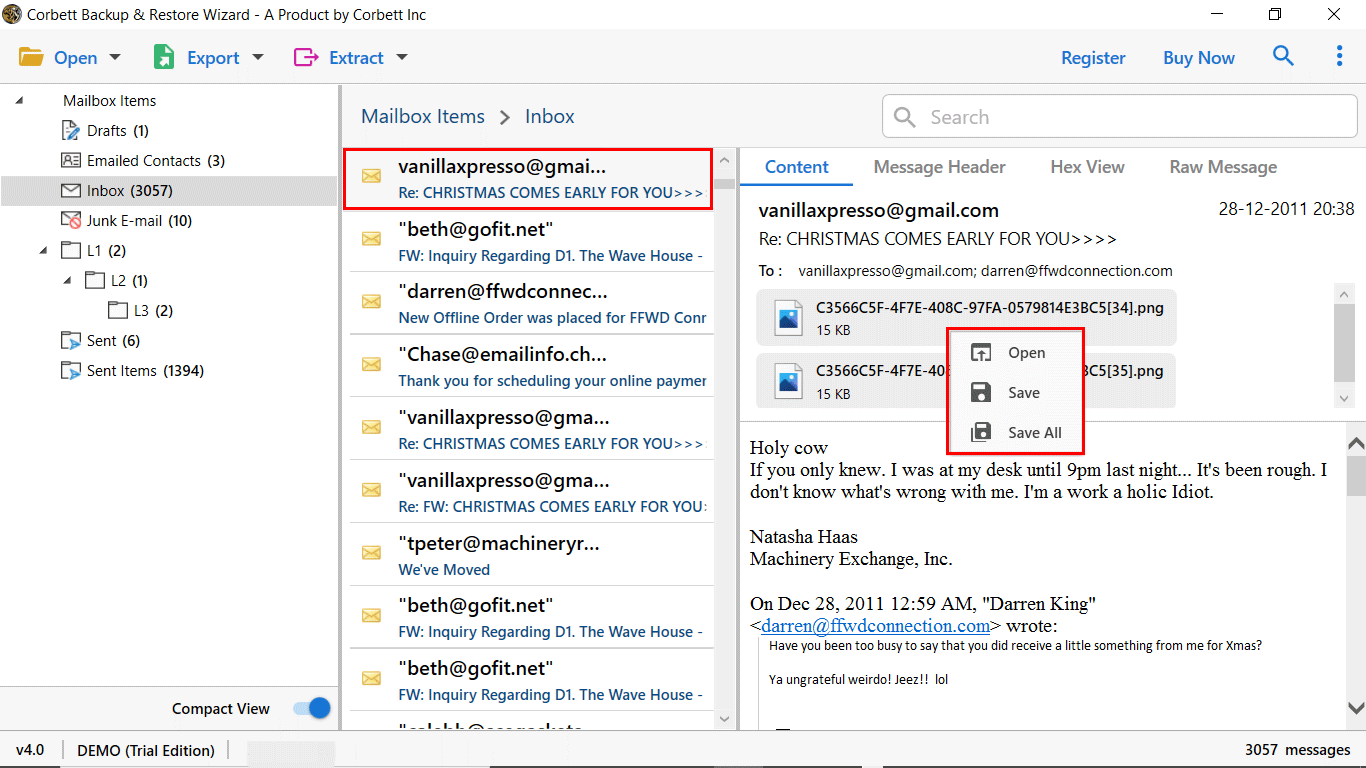 5. Moving forward to the next step is the Export option selects the Gmail from the drop-down list.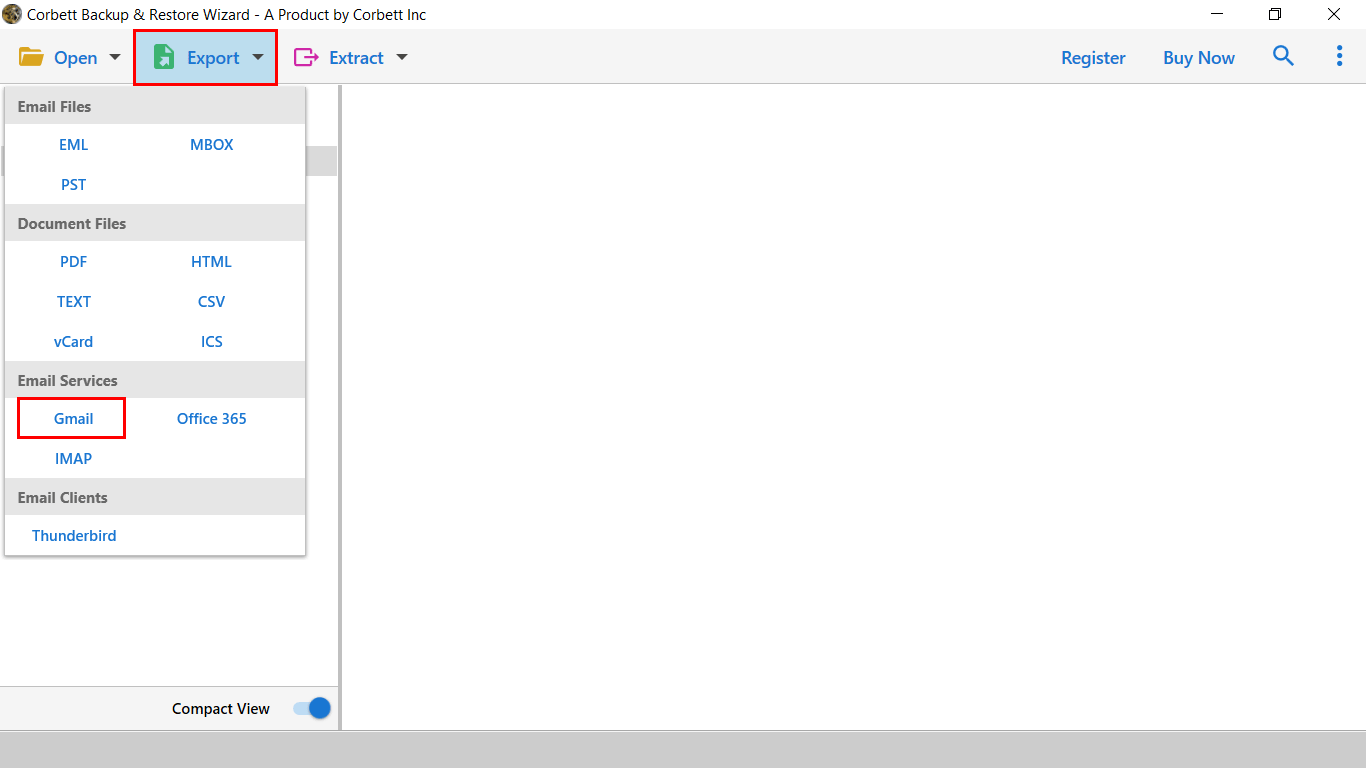 6. Finally, There is the Gmail Export option that enables you multiple advance options to enable and select Save to start.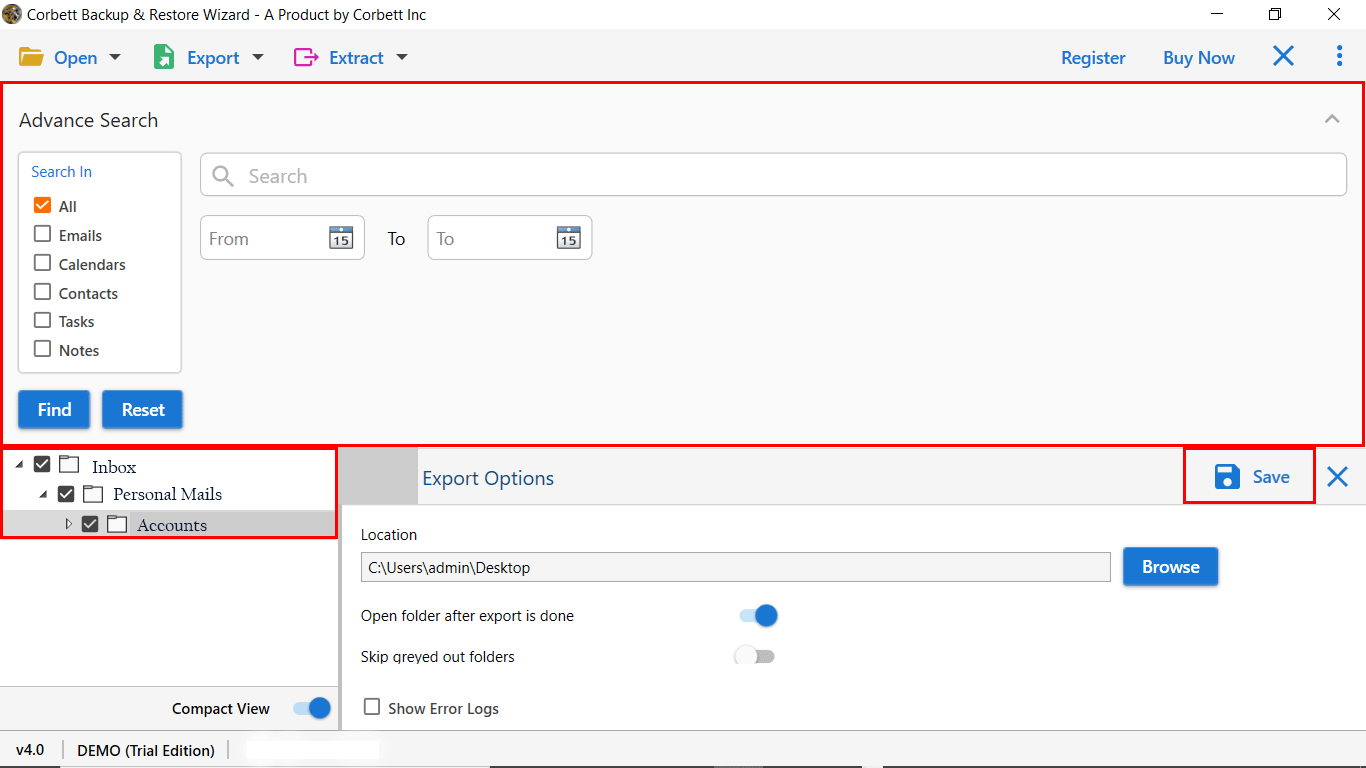 Using this automatic tool users will get unlimited advance options to upgrade the end result in a Gmail account. You can control your imported Google Takeout to Gmail data by enabling some advanced options. Know them here.
Advanced Features of this Software to Know Why Do Users Prefer this Tool
Double Mode of Selecting Email Files: This tool enables you to choose the email as a single file or folder. This decision is totally up to the users whether when want limited import Google takeout emails or Bulk folders as per their requirements.
Compact View: This option helps you to view only relevant data in your preview panel. This will hide the empty folders from your eyesight so that you can find the required folders.
Backup Folder Name: You can write the backup folder name before starting the process or can set that by default. This import Google Takeout emails to Gmail folder name is default set as exported.
Multiple Email Preview Option: Based on the user's interest this tool provides basic to advanced email preview modes. So that users can preview the email body as per their need for the information.
Also Read:
Author's Suggestions
We describe the best two methods to import Google Takeout Emails to Gmail account. Both methods can be used to complete the import process. But due to time shortage and unsecured process of manual way can cause you trouble. But on the other hand, you have one of the finest and most reliable tools to import Google Takeout data to Gmail account. So, without any further wait start the process.